Last month Northern Virginia real estate agents were rolled over into a new MLS System. Which means that you, also, were rolled into a new MLS system as it's your homes and their data that populate the MLS. You will notice a couple of key differences the next time you go to buy or sell a home, or even as you daydream on Redfin or Zillow.
• Listing photo limits increased from 30 to 150. That's a lot more detail for owners to show & buyers to see.
• Character limits in a listing description increased from 400 to 4000. We'll see fewer "HWFs", and more "Hardwood Floors".
• Most notable: A couple of new status options may change how your next purchase or sale is negotiated.
In the former, "MRIS", MLS system agents were limited to 30 photos and 400 characters in the description for each home listed. In the new, "BrightMLS" MLS system, we are now able to add up to 150 photos, and have a 4,000 character allowance in the description. I can see no circumstance where anyone would use nearly that many photos or characters, so functionally, these items are now unlimited.
With these changes, it will be easier and more important than ever to put a home's best foot forward online. Putting that best foot forward has always started with great preparation of the home itself. With a 150 photo limit at their disposal home owners and agents won't be able to leave many stones unturned when preparing the home for sale.
I will say, one benefit of that is, once you make all those preparations an owner is likely to come across fewer surprises come inspection time. After all, no one wants a dripping faucet closeup, a dangling outlet cover, or a wall with five shades of touched up paint to show up in the MLS.
MORE ON THE NEW STATUS OPTIONS
In the previous system when a purchase offer was accepted the status was changed to one of two contract stages, Contingent Without a Kickout, or Contingent With a Kickout. Either way, this typically meant that showings and open houses stopped, and home owners went all in with that particular purchaser.
In the new BrightMLS system the "Contingent" statuses are replaced by a "Pending" status, and an "Active Under Contract" status. The "Pending" status is fairly straight forward. You have a contract, and you are no longer marketing the property. Within the old system the "Active Under Contract" status would have been a contradiction in terms, so what does this mean? In short, this status means a seller has accepted an offer with the contingency period beginning as usual, but has elected to have their agent continue to actively market the home and seek back-up offers. It has always been possible to accept back-up offers. The difference now is that a home owner can choose to actively pursue them and do so publicly within the MLS.
Beyond the added security in the event the first buyer falls through, a back-up offer in hand can also provide a homeowner with negotiation leverage during the contingency period, particularly during the home inspection period. Under the Active Under Contract status days on market are still counted, however, which hurts owners if they do have to come fully back on the market, so they will need to weigh the pros and cons.
I expect that, due to these possible leverage points, some buyers will demand a "Pending" status should their offer be accepted. Similarly, I can see owners who want to use the Active Under Contract status asking for something in return if the buyer requests a pending status. Requesting the buyer waive an inspection comes to mind, particularly on a fast sale where a crowd of interested buyers was building.
Have questions or comments about these changes? Let me know in the comments!
Looking for a value estimate for your home as we head into the new year? Go here and we'll get that to you within 24 hours.


Falls Church Market Charts & Notes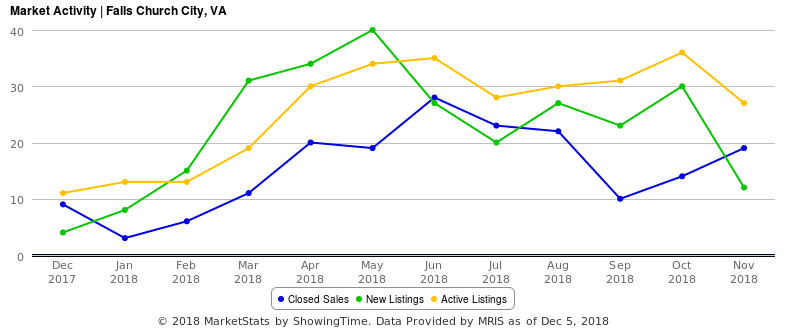 WHAT I'M WATCHING: It's not shown here, but at the time of this printing there were 22 active listings available in the City of Falls Church. Double the number available at the close of December, 2017. The current 22 is still within historical norms, but I am watching to see how that number changes by the end of the month as homes sell and as other owners decide to try again in the Spring.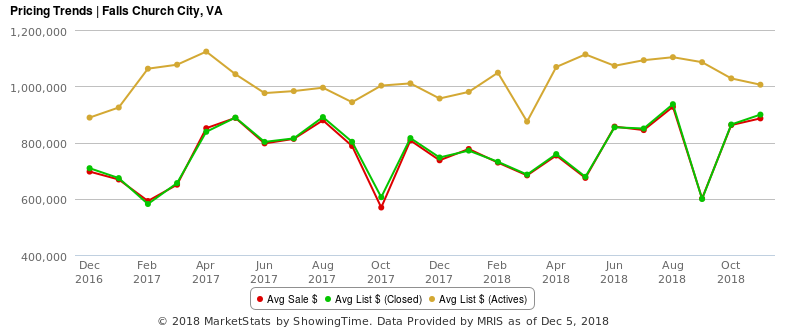 WHAT I'M WATCHING: From June through September the average asking price for Active listings was around $100,000 more than the same months in 2017. Meanwhile, average list prices of the homes that sold where right in line with the average sales price. In a sense this suggests a portion of the market is trying to opperate outside of realistic expectations. It is also the case that new built homes at the higher price points tend to sit longer, which is likely inflating the Average Active List Prices to some degree.