WATCHING YOUR ZESTIMATE? HERE'S HOW TO MAKE IT MORE ACCURATE
For even the most casual of Zestimate watchers–and any homeowner I've ever talked to is a least a casual watcher–tracking the ebbs and flows of a home's estimated value can be a roller coaster ride of victory and defeat. For the super Zillow user the daily check-in may even determine your mood at the office or at home that day, or how well you sleep!
Even though the CEO of Zillow himself recently sold his own home for 40% belowhis Zestimate, it's hard to resist the pull, despite knowing it's flaws. At the end of the day, there really isn't a reliable home estimation tool available online, and a market analysis from a knowledgeable Realtor® remains the best way to get a realistic value estimate. However, we're embracing the reality that no one is actually going to stop checking Zillow regularly. SO, we wanted to offer you some hope for reprieve and stability.
YOU ARE PART OF THE SOLUTION
Part of the problem with Zillow Zestimates is the inaccuracy of much of the data used to generate them. Zillow may show a home has 4 bedrooms, but missed the legal 5th bedroom in the basement. Or one home may only post its above-ground square footage, while the identical one next door includes the finished basement in their size tally, and so on.
Good news! There is a partial solution to this data problem, and that solution is you, the homeowner! Many are surprised to learn that they can "claim" their home on Zillow and edit their home's details to improve the accuracy of the information. Making any adjustments to a homes details will have an immediate impact on the Zestimate now that Zillow is working the with new information.
Your home will still be compared to homes with inaccurate information, so to really see a strong accuracy improvement you'll need this tool to catch on. The more owners who claim their homes, the more all owners in the area will benefit from more accurate Zestimates and expectations that fall closer to reality.
ALL HOME SELLERS NEED TO CLAIM THEIR HOME
As a home seller, claiming your home on Zillow and adjusting for accuracy is an absolute must. Despite the inaccuracies, potential buyers of the home are going to check the Zestimate before they sit down to write an offer. When the Zestimate is close to asking price, or even higher, they feel more confident about writing an offer closer to that price.
The good news for home seller's is that the Zestimate tends to respond strongly to a home's list price when it's on the market. If the Zestimate was $787,984 and a home comes on the market for $889,900, it's not uncommon to see the Zestimate jump much higher, even almost matching the list price in some cases. In part this is because the algorithm assumes a more knowledgeable human influence was involved in determining that asking price.
HERE'S SOME SCREENSHOTS TO GUIDE YOU THROUGH
Start by running a search for your address like you would normally do to check your Zestimate. At the top left you'll see "Public View" and "Owner View". Click "Owner View". Click "I'm the owner, Show me!". Once claimed you can scroll down to "Your Zestimate Tool" and "Review Facts". Once you review and correct any errors you should see an updated Zestimate!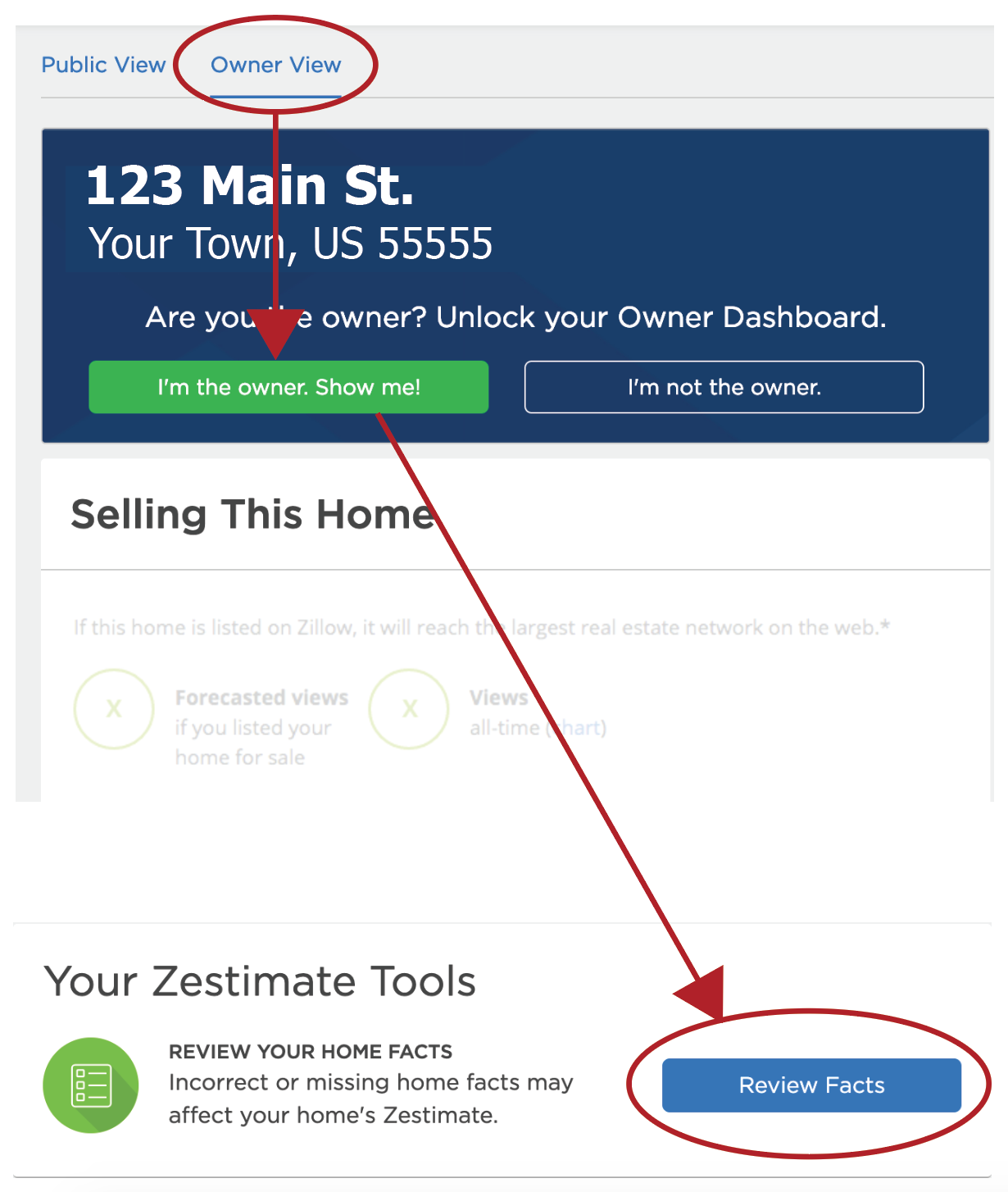 IF YOU ARE LOOKING FOR SOMETHING MORE ACCURATE, TRY HERE